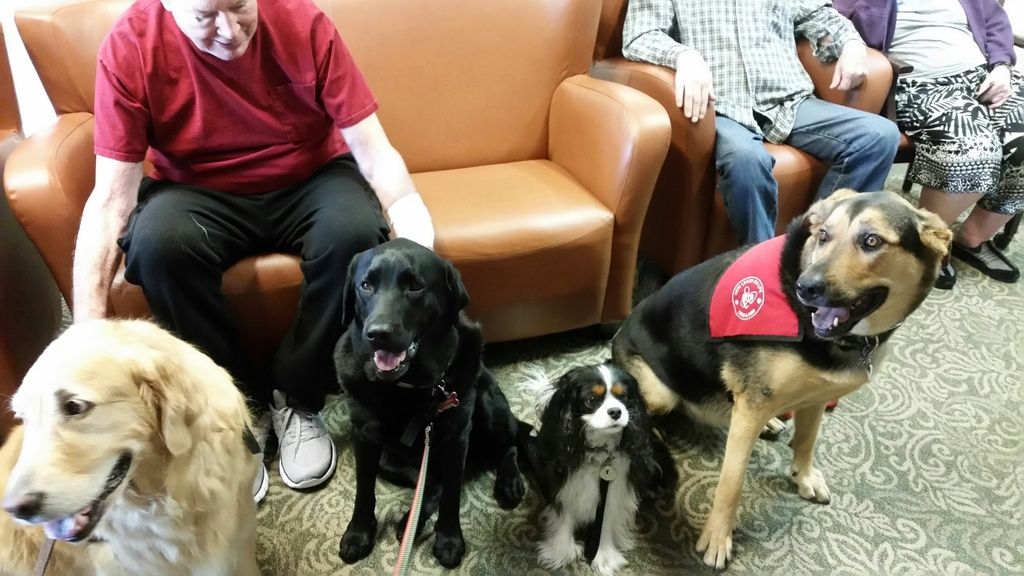 LEND A PAW Therapy Dog Program
What is New Leash On Life?
Founded in 1997 and located in Newhall, CA, New Leash On Life (NLOL) is a non-profit animal rescue organization which rescues from city and county shelters, then rehabilitates and re-homes the dogs. Upon rescue, all dogs are given needed medical treatment, are spayed or neutered and then transported to our facility and are made available for adoption. NLOL is a no-kill shelter.
What is the Lend A Paw Program?
New Leash On Life is proud to introduce the Lend a Paw program. Since 2005, Lend a Paw has been committed to enhancing the lives of individuals experiencing physical, mental, emotional or life challenges by providing social and therapy dogs to offer assistance, warmth, compassion, unconditional love and a healing environment.
Lend a Paw volunteers and their therapy dogs as teams visit hospitals, nursing homes, schools for special needs and veterans groups to provide healing for the patients and students. New Leash On Life utilizes the training experience from it's LAP program by providing specialized training services for individuals who wish to adopt a Therapy Dog for personal service or train their own dog for personal service. Contact lendapaw@nlol.org
What is a Therapy Dog?
A Therapy dog is a balanced and obedient dog with a specific temprement and disposition highly trained in life skills to operate in any environment to provide emotional support to an individual. Additionally they are wonderful companions and part of the family. Each dog is temperament tested, put through a rigorous training regiment and is certified. These special dogs are trained to maintain focus and respond to direction despite distractions. These dogs can promote improvement in human physical, social, emotional, and/or cognitive functioning.
What is the difference between a Therapy Dog and just a trained dog?
Our Therapy dogs have completed an extensive training standard including obedience, advanced and life skills training and have passed testing and obtained certification. Our Tained dogs are completely obedience trained, but may possibly not have the exact temperament needed for therapy work (i.e. the dog is uncomfortable around wheelchairs).
Can I foster and/or train a Therapy Dog ?
We prefer that during training Therapy dogs live in a foster home. This gives the dog a better opportunity at maintaining their training in a home environment and keeps them socialized both at home and in public. Foster parents are responsible for the care of their Therapy dog as well as training maintenance. It is incredibly rewarding to see these dogs that have come from a shelter environment being rehabilitated, trained and giving back to people in need. See more details at GET INVOLVED
How can I adopt a Therapy Dog ?
New Leash On Life provides specialized training services for individuals who wish to adopt a Therapy Dog for personal service. Contact lendapaw@nlol.org
Can I use my own dog for therapy work?
New Leash On Life provides specialized training services for individuals who wish to use their own dog for personal service. FIRST, we need to test your dogs temperament, disposition and current level of obedience and life skills to determine the training needed, if any. ENROLL in an evaluation session or contact lendapaw@nlol.org
How can I find Therapy dogs available for adoption on your web site? Check for Available Therapy Dogs